12 September 2023, 16:30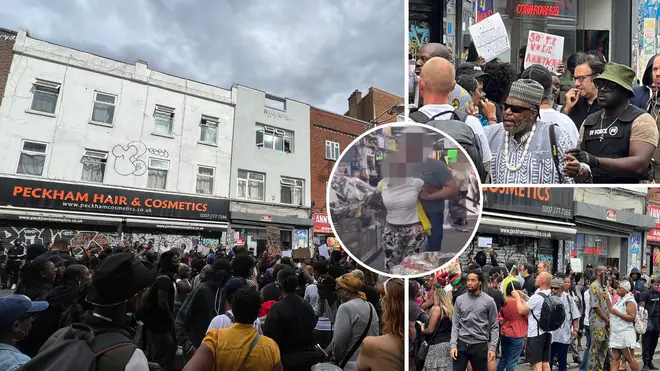 A protest has broken out on a busy south-east London street after a shopkeeper was filmed manhandling a woman accused of shoplifting and assault.
The clip, which only showed the Peckham Hair and Cosmetics shopkeeper wrestling the woman forcefully towards the exit while she beat him with a shopping basket, was viewed thousands of times online.
In the video, the woman says: "Get off me, he's trying to strangle me. Get the f*** off me.
"Call the police! Call the police!… This man just strangled me!"
Police later said that the unnamed woman was accused of assault and shoplifting, and had been arrested and bailed pending further investigation.
Read more: Dementia-suffering woman, 91, 'handcuffed, hooded and strapped down by Met police' after cops aim taser at her
Read more: Missing girl, 13, travelled 180 miles from Barnsley to London party and 'is now in company of older man', as 3 arrested
Man chokes woman during confrontation in Peckham
The woman was black, and many people accused the shopkeeper of racism. Others online praised him for fighting back against the alleged shoplifting. LBC has not been able to contact the shop for comment.
Local community leader Sayce Holmes-Lewis, a founder of an anti-knife crime group, helped organise a protest outside the Rye Lane shop on Tuesday afternoon. The shop was shuttered.
"What I have to be very clear on is that no one needs to do anything in terms of violent behaviour or anything like that, we turn up here and… we hit them in the pocket," he said.
"That's the only language they understand. I don't need anyone incriminating themselves or doing anything silly."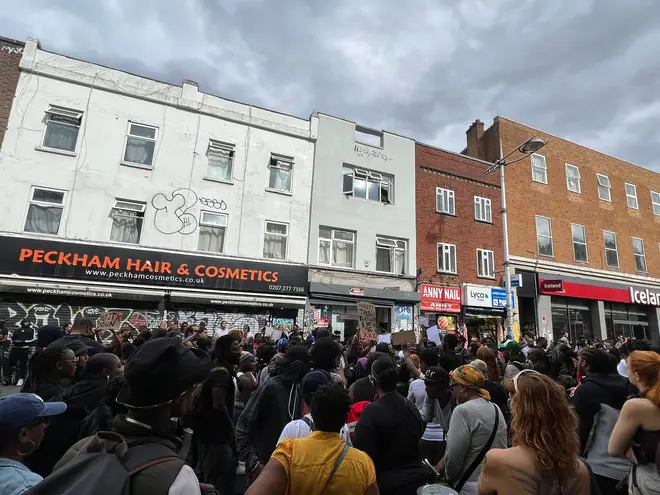 Representatives from the Forever Family Force (FF Force) were seen at the protest.
The FF Force, a black-uniformed group who say they are "against racism, injustice & inequality" were at the Peckham event there to make sure protesters were "all in check" and "all in order", Mr Holmes-Lewis said.
Hundreds of people showed up for the protest, with placards including "Keep your hands off black women", "Our investment ends here" and "Stop the violence against women".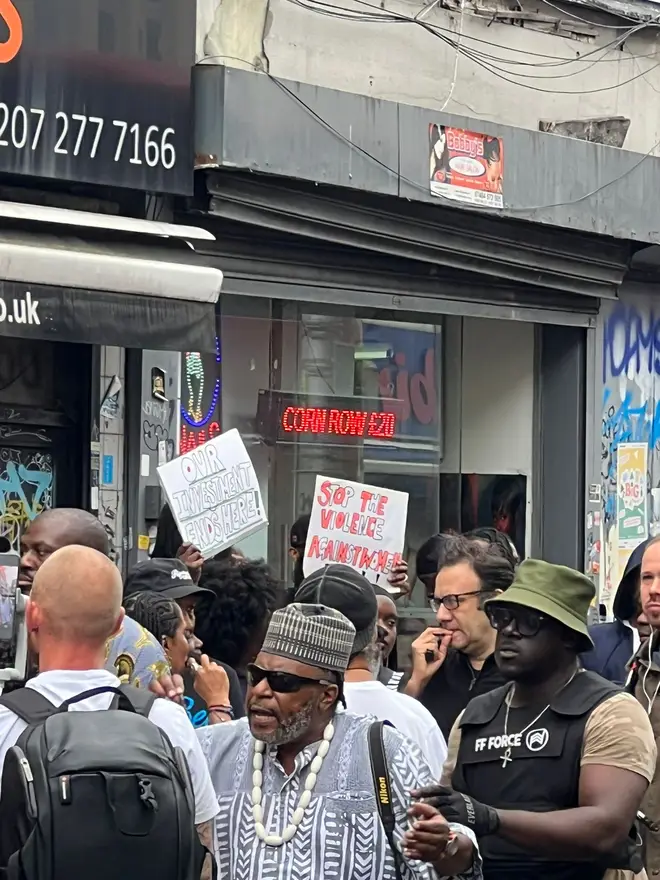 Some people were heard chanting: "We don't need them, they need we".
A spokesperson for the Met said: "We are aware of a protest outside the shop and officers are in touch with the organisers.
"We appeal for people to remain calm while we carry out a full investigation.:
Addressing the original video, Detective Chief Superintendent Seb Adjei-Addoh, the Met's local policing commander for Southwark, said: "We know people will be concerned about a video circulating online of an incident in a shop.
"Our officers attended on Monday and continue to investigate the full circumstances of what has taken place. The investigation will include reviewing the actions of everyone involved.
"I would like to thank people in our local community for remaining calm and giving us the time to conduct a thorough investigation.
"If you have information that may help us I would urge you to get in touch."